Vinyl Removal
What is Vinyl Removal?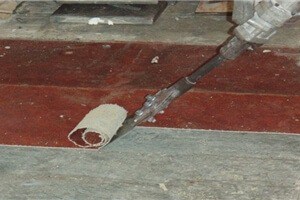 There are many different types of vinyl flooring ranging from thin domestic sheeting to much thicker industrial grade vinyl. The various types of vinyl will be laid in various ways depending on the sub-floor.
If concrete subfloor: a topping or feather coat is applied to ensure the slab is smooth. Then the vinyl is glued down to the topping ensuring a hard bonded finish.
If timber subfloor: the vinyl may be glued directly to the timber flooring or laid on a Masonite underlay. Some vinyl may even be loose laid over timber flooring.
CAUTION: In older buildings pre 1980, Vinyl may contain Asbestos, this vinyl needs to be tested prior to removal and the appropriate precautions taken.
Vinyl removal involves using a specially designed blade and jackhammer to separate the floor covering from the sub floor. Once the vinyl is lifted off concrete a glue resin will be left this needs to be ground off using a specialized diamond concrete grinder. When removed off timber, the timber subfloor will need to be sanded using a timber sander to remove the vinyl glue.
NOTE: When removing vinyl from timber subfloor, damage will result to the timber subfloor due to the hard bond between the vinyl glue and the timber.
When vinyl is laid on a Masonite underlay over timber flooring, the nails will also need to be removed prior to re-laying
Why choose All Stripped
All Stripped are an industry leader in vinyl removal having been in business for over 15 years. Specialized training combined with the rights tools and equipment means All Stripped can handle any size job with any deadline while still maintaining the highest standard of work. As part of the service, all floors receive a thorough clean and vacuum
CALL 1300 760 589 NOW TO TALK TO YOUR LOCAL ALL STRIPPED REPRESENTATIVE